Ok, here is a "deal" I just figured out on my own. If you are in need of super cheap items from Kohl's, there is a great way to make it even better.
Kohl's has an offer where they will send you a $5 off your next purchase coupon when you register your email address with them. Well, there are Ebay sellers that are doing all the legwork for you. I just bid on and won 3 seperate auctions for (20) each $5 off coupons. Yes, that means I have (60) $5 off coupons for Kohl's. I paid less than $10 total for all (60) of my coupons. You can only use one coupon per transaction (and technically per visit.....but there are ways around this if you want!). You obviously don't want to bid on 60 coupons if you won't be able to use them.
I just went to Kohl's to do my first round. The cashier let me do 2 transactions back to back without a flinch or question. I didn't want to try any more than that......
I got an adorable outfit for Riley for $2.13.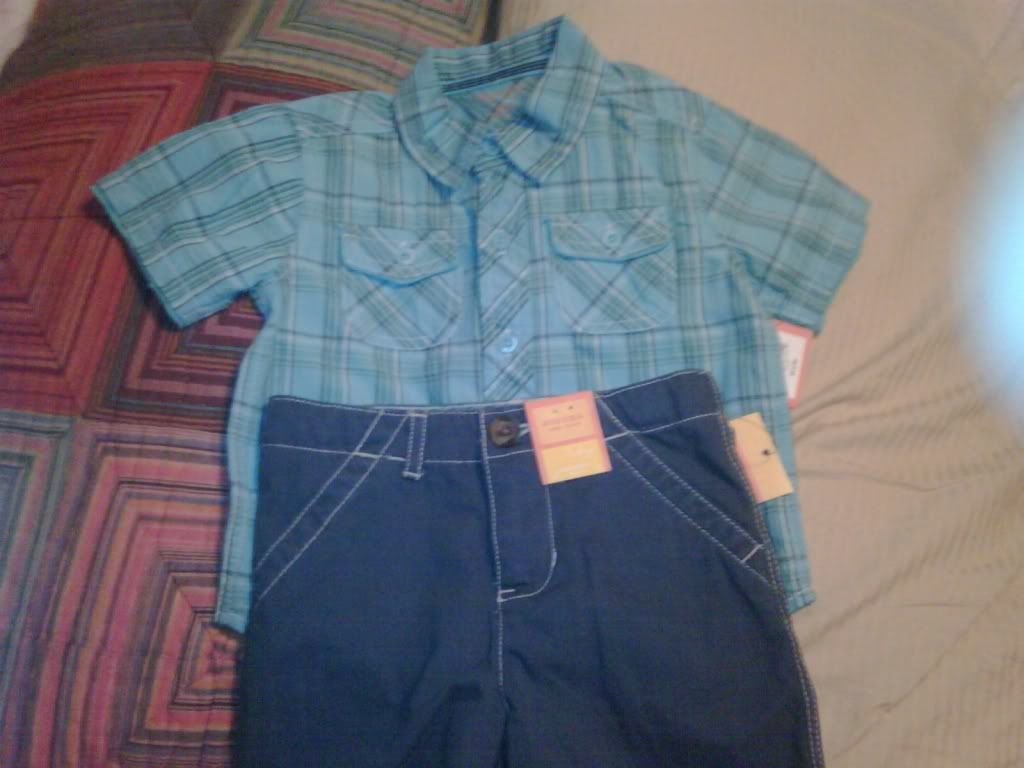 Here are a few things I see that could be really cheap:
-Carter's Clothing for babies - I saw some outfits that were around $6, so they would only be about $1 after the coupon.
-Sonoma Seperates (which is what I got above) are all 60% off. The shirt was $14 originally, so $5.60 on sale minus $5 coupon = $0.60 plus tax. The shorts were $16 originally, so $6.40 on sale minus $5 coupon = $1.40 plus tax.
-Osh Kosh B'Gosh in the infant section was 55% off. I saw some shirts that were $6 after the sale, so those would be super cheap.
-In the older boys section (4 and up) there were some Sonoma polo shirts that were on sale for $5.99. Super cute and soft and they mostly solid colors with some kind of "cool" design on it. Hard to explain but I know my boys will love them.
-I didn't see very many shorts in the older boys size that will be cheap but I am going to look again....I was in a hurry.
-Boys underwear - the licensed character ones - were all on sale. They ranged anywhere from $5.29-$6.20 a pack (2 or 3 pairs per pack) from what I could see. So super cheap boys underwear.
I didn't check out any other areas of the store but I am sure you could get towels, bath accessories, some cooking accessories, and many many many other things for super cheap.
The coupons don't expire until July 11th so there is time to use them.
You can go on to Kohl's yourself and register for the $5 but if you plan to do alot of transactions (like me!) I think it is worth it to pay the $2-3 per auction and get them all quickly/easily without creating new email addresses for yourself. My 3 auctions that I bid on already paid for themselves in one transaction at Kohl's.